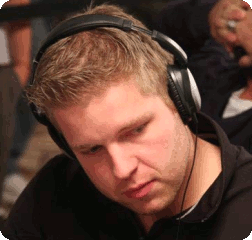 It's pretty clear that Omaha has become the game of choice for the high stakes games on PokerStars these days, with well over 90% of $25/$50 and above action taking place at the PLO tables. Phil Galfond who plays as MrSweets28 on PokerStars was quizzed about why there has been a shift from holdem to PLO in recent years during a recent appearance on the twoplustwo Pokercast. The basic gist of his answer was that he believes no limit holdem is close to 'solved' at high stakes, particularly for heads up matches. He suggests that there is much more room for an edge in PLO as people can 'believe' they are playing optimally, but be incorrect and that the battle of adjusting to your opponent's play in PLO is much more dynamic and allows for a skill edge to shine through.
So, with the World Series of Poker nearly upon us where the online game quietens down a little, it's a good time to look at the big winners and losers at the PLO tables in 2012.
Popular poker tracking website PokerTableRatings has moved to an opt-in system for PokerStars so these days its back to using HighStakesDB to check out how the games are going. Things have changed a bit since poker's heyday and instead of games regularly running at $500/$1,000, you'll usually see them topping out at $50/$100 these days, with the occasional $100/$200 game. By far the biggest winner this year is EireAbu who is up over $1.7M in 2012 over 150,000 hands, more than anyone else. Although he has an Irish screen name and is located in Ireland, EireAbu is in fact Dutch player Jorryt van Hoof who moved to Ireland several years ago, and not Irish pro Andrew Grimason, as was reported by Pokernews.
Ben 'sauce123' Sulsky comes in second on the winners list with almost $1.3M over just 75,000 hands. Longevity is a rare quality in online poker players, but sauce123 has been crushing since the days when $5/$10 on PartyPoker was the biggest game online.
Other big wins include Finnish player bernard-bb who is thought to be Ilkka Koskinen, a $1.225M winner in 2012, and Phil Galfond who plays as MrSweets28 and moved to Vancouver so as to be able to play online poker; he's up $1.14M this year. The only other million dollar winner for 2012 is Jeans89. Jens Kyllönen is the owner of this account and another in a long list of big winners from Finland. At one point this year he was up almost $2M, but is on a pretty big downswing. That didn't stop him registering for the $1M buy-in Big One for One Drop event at the upcoming WSOP however.
So where's all the money coming from for the winners? The biggest loser for 2012 is Zypherin. This account is thought to be another one owned by circus master Guy Laliberte and is down $2.3M for 2012 in just 42,000 hands and $3.5M overall. Next on the losers list is the infamous Viktor 'Isildur1' Blom. Blom's speciality is no limit holdem, and he's always been considered something of a PLO mark. Through 142,000 hands in 2012, Blom is down $1.1M. 1Il|1Il|1il| is down $809,000 through 115,000 hands but his identity remains a mystery. Other big names that appear on the losers list are Ilari Fin owned by Finnish player Ilari Sahamies, and Fake Love888 which is almost certainly Patrik Antonius, who is down $385,000 in less than 20,000 hands.