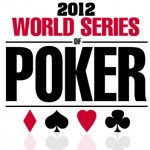 Fans of four-card poker will have plenty to get excited as the Summer, and the 2012 World Series of Poker rolls around. Beginning on May 27th, the 43rd Annual WSOP offers no less than 10 bracelet events for Omaha fans, in various combinations from straight Pot Limit Omaha, to Mixed Holdem/Omaha and of course an array of Omaha hi/lo tournaments.
Your first chance at some PLO action comes on day 3 of the Series, May 29th at 12pm, when a new $3,000 buyin mixed No Limit Holdem/PLO tournament gets underway. This one has a 512 player cap and 20 minute blind levels with the game changing after every level. In each round, players get 1/3 of their starting chips at the start of the round and may add on the additional two increments of 1/3 whenever they please during the match. The total starting stack represents 180 big blinds.
The next Omaha action comes in the form of a limit $1,500 Omaha hi/lo tourney on June 1st at 12pm. This one has one hour blind levels and a starting stack of 90 big blinds. In 2011, this event got 925 runners and the reigning champion is Francesco Barbaro who took home in excess of $263,000.
Next up, on Monday June 4th at 12 pm is the first straight Pot Limit Omaha event, a $1,500 buy-in tourney. The blinds start at 25-25 in this one, and players receive 1,500 in chips to start, with one hour blind levels. Players can also take two 1,500 chip add-ons any time within the first four levels. Elie Payan won this event last year, taking home $293,000 while besting a field of 1,071 players.
Monday the 11th of June at 5 pm sees the start of another limit Omaha hi/lo event, the $5,000 Championship. This one sees players starting with 15,000 chips and the blinds at 100-200, where they remain for the first four levels, with each level being an hour long. Vyacheslav Zhukov saw off the challenge of George Lind, Steve Bilirakis and Richard Ashby at the final table in this one last year, as well as 198 other players to take home $465,000.
The next Pot Limit Omaha action comes around on the 12th of June at 5 pm. This one is a $3,000 buy-in event where players start with 3,000 chips and the blinds at 25/50. Again, players can add on two increments of 3,000 chips any time within the first four levels which are an hour long. Sam Stein emerged victorious from a field of 685 players last year, and won $421,000 in doing so. This event saw 2011 Player of the Year Ben Lamb finish second to Stein.
The $5,000 short-handed PLO event takes place on June 18th at 12pm. The blinds in this one start at 50-75 and a 5,000 starting stack. Two 5,000 chip add-ons are also available to players until the end of level 4. Jason Mercier won this event last year; seeing of a field of 507 players stacked with Omaha specialists, he took down almost $620,000 in the process.
Event 39 is the big one for Omaha players, the $10,000 Championship event. It begins at 12 pm on June 21st and all entrants will hope for it to be their longest day at the WSOP. Blinds start at 50-100 with a 10,000 starting stack and two 10,000 chip add-ons. Again, the blind levels for this one are an hour long. Ben Lamb won this one last year for $814,000 beating Sami Kelpuro of Finland heads up. Previous winners of this one include Phil Galfond and Marty Smyth.
Friday June 22nd sees an event for the mixed games specialists, a $2,500 mixed Omaha hi/lo and Stud hi/lo event. This event has a starting big bet of 150, and starting stack of 7,500 chips with one hour levels and the game swaps over every eight hands. This one attracted 450 runners last year and Owais Ahmed was the last man standing and was $256,000 richer after it, beating Michael 'The Grinder' Mizrachi heads up.
The first pot limit Omaha hi/lo event comes around on the 26th of June at 12 pm. This $1,500 entry tourney has a 1,500 starting stack with two 1,500 chip add-ons, and the blinds start at 25-25 with one hour levels. David Singontiko took away $268,000 for winning this event last year
Event 58 is your last chance to get in on some Omaha action, with the $3,000 pot limit hi/lo event. This one kicks off at 5pm on July 3rd with a starting stack of 3,000 and two 3,000 chip add-ons. The starting blinds are 25-50 and there's a one hour clock. Nick Binger walked away with $397,000 last year, emerging victorious from a field of 352 and a final table that included Phil Laak and Nick Shulman.
Omaha Event Calendar:
May 29th at 12 pm $3,000 Mixed NLHE/PLO
June 1st at 12 pm $1,500 Omaha hi/lo
June 4th at 12 pm $1,500 Pot Limit Omaha
June 11th at 5 pm $5,000 Omaha hi/lo Championship
June 12th at 5 pm $3,000 Pot Limit Omaha
June 18th at 12 pm $5,000 Short-handed Pot Limit Omaha
June 21st at 12 pm $10,000 Pot Limit Omaha Championship
June 22nd at 5 pm $2,500 mixed Omaha hi/lo and Stud hi/lo
June 26th at 12 pm $1,500 pot limit Omaha hi/lo
July 3rd at 5 pm $3,000 pot limit Omaha hi/lo