Tune In,
Bet Pot

, Cashout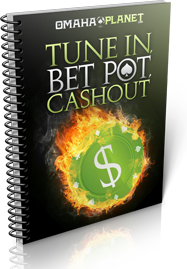 Fill in your email address to download our free Omaha poker book. This essential guide will cover topics such as:
Transition Guide For Texas Holdem Players.
Reading Board Textures & Pot Size Manipulation.
Examples Of Specific Hands & Tricky Situations.
Advanced Plays For Wraps, Straights & Flushes.

* We hate SPAM as much as you do. Your information is safe with us & wont be redistributed.