Only Costs €79 and will Earn you €1000's in your Lifetime!
| | | |
| --- | --- | --- |
| PL Omaha Hi-Lo: | | Multi-tabling: |
| | | |
| --- | --- | --- |
| Fixed Limit Omaha: | | Hand Replay: |
Payment Methods: Skrill, PayPal, Credit Card
Get Omaha Indicator Now!
www.omahaindicator.com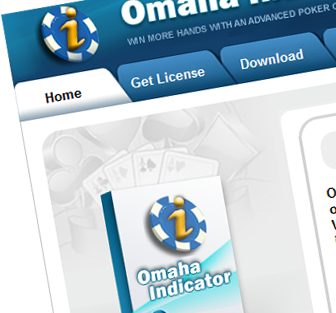 Omaha Indicator is a cutting edge real time Omaha Odds Calculator which you can use while playing either Omaha or Omaha Hi-Lo at more than 150 of the leading poker sites. It works by passively watching your play and giving you accurate odds and outs data – as well as alerting you when you have the nuts.
Rooms which are supported include all of the big names including Pokerstars, Full Tilt Poker, iPoker (Titan Poker, Celeb Poker, Poker770, WilliamHill Poker), Party Poker, OnGame Sites (Red Kings Poker, Betfair) and Merge Sites (Lock Poker, Carbon Poker and many more).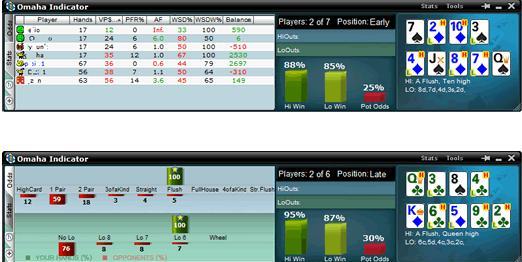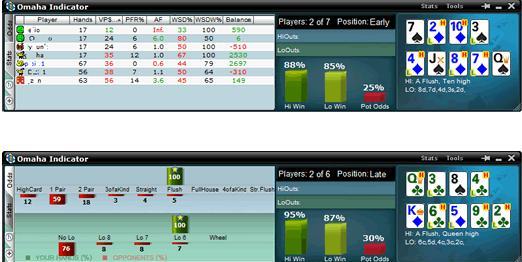 Omaha Indicator can help you profit in a number of ways, these include:
1 – Fast Rating Of Starting Hands: Hands are shown as 'Top Ten', 'Premium', 'Strong' or 'Weak' allowing you to focus on the profitable combinations fast.
2 – Accurate Odds And Outs: Never miss an out again with accurate information on the chances of making your hand (high and low hands for split-pot games).
3 – Opponent Types: Icons are assigned to each of your opponents based on their playing style, allowing you to quickly spot the calling stations, gamblers and rocks (and more).
4 – Opponent Statistics: As you gain experience you will find the detailed statistics on your opponents invaluable for getting real-time reads, these include how many hands are played, aggressiveness indicator, how often an opponent goes to showdown and their overall win / loss over the hands you have seen.
5 – Nuts Alert! This handy feature alerts you when you have the current nuts – especially handy when your opponents have very few outs as re-draws!

Omaha Indicator even supports more than one table at a time, with up to 20 instances possible at some rooms. You simply need to fire up an instance of the software for each of your tables. There is also a manual odds calculator included to let you research hand match ups between sessions.
We believe that this tool will recoup its full purchase price extremely quickly – meaning the extra cash it brings in will soon be going directly to your bankroll. What is more you can get a copy free by signing up at one of Omaha indicator's partner poker rooms (minimum deposit and play through is required – details on their site).
We recommend this tool – find out how you can transform your profits from Omaha games today by visiting Omaha Indicator now!